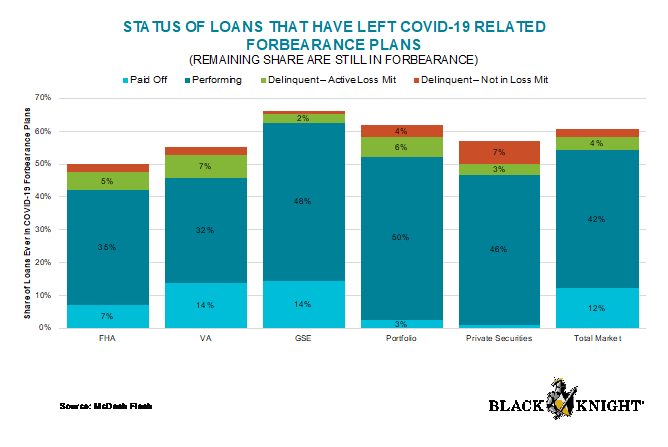 Forbearances Improving
Within the last year, Forbearances have really shaken the housing market. Especially for lenders. This is because there was no real notice that this would go into effect. The notice came directly from the administration on a Sunday. Leaving the lenders to deal with it in a Monday.
There was a lot of speculation on how this would impact Housing. Overall, that data that we have seen since this started has been overly positive. A lot of people initially either needed the forbearance program or used it as a sort of backup plan or insurance policy.
Since this program has started, about 42% that went into a forbearance are out of the forbearance and are performing. A total of 39% of people are actively in forbearance.
As you will see on the chart in image 3, it breaks down the different types of loans. You will see GSE, Government Sponsored Enterprise, has the largest amount of loans. These are the conventional loans, that a lot of people have. Breaking this down into more statewide numbers, you will see that California on this list, in image 4, has the 8th lowest delinquency rate in the country. The West Coast of the country in general has been performing the best. Whereas places that are in the South, have some of the highest delinquency rates. We speculate that this is because of the type of housing market between the two.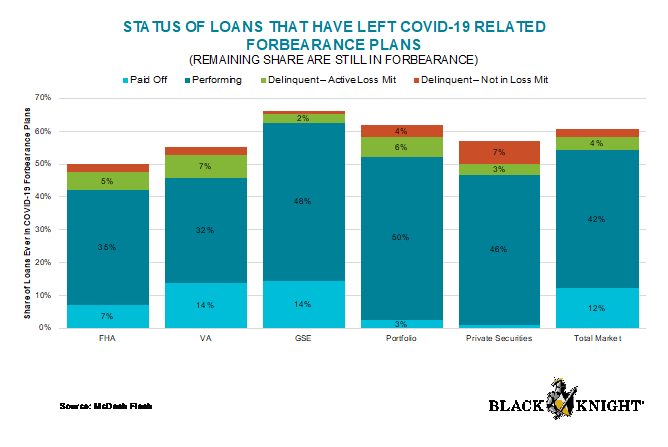 Fannie Mae's Announcement on Investment Properties & 2nd Homes
In reference to Fannie Mae's Announcement, it stated:
"Recent amendments to our senior preferred stock purchase agreement with Treasury impose additional risk criteria on the loans we acquire. One of those restrictions is a 7% limit on our acquisition of single-family mortgage loans secured by second home and investment properties."
What this means for lenders, is they will essentially have to monitor and throttle the amount of investment properties and second home mortgages that are originating and keep that number under 7%. So, we are likely to see rates increase for investments and second homes. That way it would decrease the demand for these mortgages.
Conclusions
Outside of everything, rates are still amazing and still low. There are still many people out there that would greatly benefit from refinancing. So, if you know of anyone that is in the market for refinancing, or if you are looking to refinance yourself, and would like a total cost analysis and consultation prepared, I am always happy to help!
We are entering Spring Buying Season, so now is a good time to get pre-approved. It is typical that the most homes come on the market during Springtime and early Summer.